Volunteer Highlight
"Volunteers aren't paid, not because they are worthless, but because they are priceless".
Sergio & Valerio Gurciullo
This month we present our most cherished volunteers, brothers and joint owners of Milano Salon and Spa, Sergio and Valerio. Sergio and Valerio's willingness to open up their salon in January 2013 to Cut out Cancer has made our mission a success. As the most generous partners and participants, both Sergio and Valerio have embraced this project with love, selflessness and kindness. Each month one or both of them are found styling hair, taking the time to listen, and giving a hug. We are all forever indebted to them for their generosity.
In a recent interview, we got a chance to know a little more about the men who have made it all happen!
What motivated you to get involved in Cut out Cancer?
Valerio: I love people. I love helping lift up the spirits of the clients who come in to the salon and helping them feel a little better. We have been touched by cancer personally in our family so I can say in a small way, I know what they are going through.
Sergio: It feels good to do a good deed especially when talking about cancer, since my family can say we know the impact cancer can have.
How did you get started being a hairdresser?
Sergio and Valerio: Our dad had a hair salon in Sicily. It wasn't just a hair salon, but more like a community club where we knew all the customers. As boys, we would hang out there and when we were just old enough- 11 and 13, our dad would let us help. We grew up faster there in Italy. We would stand on a stool, lather up men's faces and with a straight edged razor, we would give shaves. Imagine that! We immigrated to Middletown CT when we were young teens. Unfortunately, our dad couldn't get work as a hairdresser in the US so he started in factory work . We eventually carried on the family tradition and opened our salon together in Bloomfield 30 years ago.
What is your dream day off?
Sergio: Sipping a drink under a palm tree in the Caribbean. Some beautiful women around might be nice too.
Valerio: A quiet day hanging at the beach. Maybe in Newport. A glass of wine in my hand, the sun shining….what could be bad?
What has touched you from your involvement with Cut out Cancer?
Valerio: I would say I've learned even more to appreciate what I have and not to take anything for granted. I have been so moved by the strength of the clients we work with and by their gratefulness for this project. One of the unique aspects of our work is that we are allowed to touch our clients. So when I am working with a client and hearing about the challenges of their cancer, I can give them a hug and a kiss when I say goodbye. It feels good to have this bond- to be a part of the cancer journey with them. And to hopefully ease some of their pain.
Sergio: I have been touched by so many clients. One in particular stands out. I cut and styled her hair for a night out with her husband, which turned out to be one of her last nights alive. I was deeply moved and felt so great that I could do a little something to make her smile at this time in her life and to know how grateful her husband was too.
Yvette Law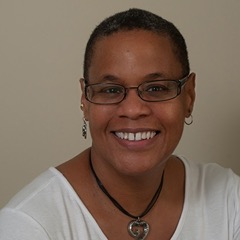 "When we give cheerfully and accept gratefully, everyone is blessed." Maya Angelou
We could not do what we do, or do it so well, without dedicated individual volunteers and businesses who donate their time, their services and their professional skills to make each Mondays at Milano such a special and supportive experience. We can never say thank you enough. We hope you will enjoy getting to know the people who make our project work so well as we feature our volunteers here.
Q:What motivated you to get involved in Cut out Cancer?
I have many family members who have had cancer and I have gone through the journey of their illness with them. Watching them go through this is close to my heart. When I happened to hear about Cut out Cancer, I was immediately drawn to this opportunity to give back and help make the journey a little less painful.
Q:Tell me about a meaningful/memorable experience during your volunteering at COC
I gave a client a massage, and she was quiet throughout the massage. At the end, she gave me a huge hug and said," You have made me smile again."
Q:What is something you are proud of that few people know about you?
I was the star of a 2 woman play called, Marla's Devotion and I starred as Marla!
Q:How do you feel after a day of giving massages at Cut out Cancer ?
I am honored and blessed to have a career that is something that I love to do. I feel giving massage is sacred work. If I can make a difference in someone's life with the work I do with my hands, then I am completely gratified. I have been so moved by what is happening at the incredibly upbeat Monday sessions at Milano Salon. It is just amazing. Observing women who are laughing, supporting each other and benefiting from being in a safe and trusting space is so gratifying. I love watching women who literally are transformed while there. This isn't a doctor's visit. It is a chance to feel normal and pampered.
You can find Yvette at:
All About Balance
(860) 212-7709?
allaboutbalance@live.com